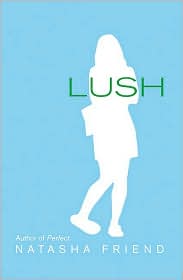 Lush by Natasha Friend
published November 2006 by Scholastic
192 pages (hardcover), YA
Thirteen year-old Samantha has a fairly normal life. She has three fantastic best friends, an adorable and energetic four year-old brother, and a mom who is quite obsessed with yoga. Oh, and her dad's an alcoholic. But he's not the blatantly belligerent type. He doesn't come crashing down the street, alerting the neighbors to his unseemly state. No, he just crashes around inside the house and forgets about it all in the morning. After one crash too many, Sam just doesn't know how to deal anymore. She can't tell her best friends because they're just so normal and who knows how they'll react. So, she's been writing notes back and forth to AJK, some anonymous person she "met" at the library. All the while, she's also "mashing" (is that really the new word for kissing?) with a cute high school boy at the water fountain, who just so happens to invite her to a party. You can guess what happens there. This is Sam's life, a bit messy and complicated, but honest and real.
I downloaded this book last night because it was #6 on
ALA's Top Ten Most Frequently Challenged Books of 2010
list, and it is now
Banned Books Week
. The reasons it was so frequently challenged? Drugs, offensive language, sexually explicit, and unsuited to age group. Yes, alcohol is a drug, and it's a running theme throughout the book. But it's not glorified in any way. Samantha hates that her father drinks. She tries it at a party one night, without thinking really, and realizes even more afterward how horrible it actually is. I won't even go into defending the other reasons because I think they're all unjustified and ridiculous.
Common Sense Media
does a good job of highlighting any questionable content, if you're really into judging a book before you read it. The one other thing I'd mention, though, is that it's definitely not "unsuited to the age group." I'd hand this book to a mature 10 year-old, I really would. I have students in 5th grade that would read this and really appreciate it.
Samantha's voice is just so honest.
Lush
isn't only about Sam's feelings about her alcoholic father. That would translate into problem novel, and it's definitely not one of those. We get to know her as a complex 13 year-old. A girl who wears baggy shirts because she's developed faster than her friends and doesn't know how to communicate those feelings. A girl who so desperately needs someone to talk to that she writes notes back and forth to someone she's never met. But a girl who still has her head on her shoulders (most of the time) and who knows the difference between right and wrong.
Natasha Friend articulates Sam's thoughts about her father so well - the way she analyzes his words and movements to tell if he's drunk, the way she checks all the supposedly hidden bottles of alcohol in the house to see if there's any liquid missing. And she makes Sam strong. Sam tells her father the truth - she doesn't believe him when he says he'll stop, and she says so. Although having an alcoholic father is a seriously tough issue, Natasha Friend provides a realistic way for teens to respond, cope, and make amends. It's not cutesy or wrapped up nicely. But it offers hope.
I'm so glad that I looked at this year's list of challenged books because I definitely missed this one when it came out. And I'm torn between being furious that it's been so frequently challenged and happy that it has been because it means that much more exposure for the book. You don't have to have an alcoholic in the family to get this book. But if you do, goodness gracious, you're not alone, and it feels so good to know that. Four purple crayons to
Lush
by Natasha Friend.
So, that's my banned book reading for the week - what will you read?
Cross-posted to the
Banned Books
blog.