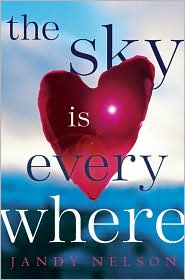 The Sky is Everywhere by Jandy Nelson
published March 2010 by Penguin
275 pages (hardcover), YA
Two peas in a pod, but now there's just one - Lennie's lost her older sister Bailey and is slowly spinning out of control. Bailey was the outgoing one, the vibrant spark, the actress, and the racehorse, and Lennie was happy to be at her side, inseparable, sharing stories and secrets. Who is Lennie supposed to be without Bailey? To say that this is a story about grief isn't enough. It's also about quirky families, falling in love at the most inconvenient time, and figuring out how to go on living when Bailey will not.
You have no idea how much restraint I'm displaying right now. I want to jump and shout "Best book ever!" all over the blogosphere and make everyone love this book as much as I did. But I am subdued because it was such an emotional book to read. Ecstatic and exquisite highs of first love and gut-wrenching, heartbreaking lows of loss and abandonment all at once. The writing was beautiful - I can turn to any page and find a quote-worthy passage. Here, I'll show you:
I start to think about all the things I haven't said since Bailey died, all the words stowed deep in my heart, in our orange bedroom, all the words in the whole world that aren't said after someone dies because they are too sad, too enraged, too devastated, too guilty, to come out--all of them begin to course inside me like a lunatic river. I suck in all the air I can, until there's probably no air left in Clover for anyone else, and then I blast it all out my clarinet in one mad bleating typhoon of a note. (p. 84)
Beautiful. But what really pulled me in was the first paragraph. This was when I decided that this book and I would have a long-lasting relationship...
Gram is worried about me. It's not just because my sister Bailey died four weeks ago, or because my mother hasn't contacted me in sixteen years, or even because suddenly all I think about is sex. She is worried about me because one of her houseplants has spots. (p. 1)
Did you giggle? If not, you may not love this book as much as I did. I'm just saying. Because it's not that the story is all that original. People die in books all the time. But the characters are unique, and their interactions are something special.
Joe Fontaine, who we meet in the second chapter, may be my second favorite character to Lennie. He has just moved back to Clover and is a "musical genius" (among other yummy things) who just so happens to be a little smitten with Lennie. Lennie! The same Lennie who eats her lunch up in a tree so she won't have to face the sea of sympathetic faces in the lunchroom, the Lennie who plays her clarinet half-heartedly even though it's obvious she can be a musical genius too, and the Lennie who walks around in a daze, every so often suddenly realizing the gravity of her life without Bailey. Who could like her? Their interactions keep this story from becoming a depressing sobfest. This over-the-top, let's-fall-madly-in-love-in-a-matter-of-days plot line might feel contrived, trying too hard to achieve a false balance, but when I think about times in my life when I've felt that deep, unending grief, I find that love was also magnified. We do try to reach some balance in our lives, as inappropriate as it might seem, and I'm happy for that authenticity in Nelson's writing.
I could go on and on about this book, but I'll save it for a second reading. Yep, you heard right, I'm buying this one, folks.Which makes this a
five purple crayon
book, one that will find a home on my sparse shelves along with other all-time favorites of mine. Goodness, how I loved it.
Reviewed elsewhere:
Holes in My Brain
;
The Page Flipper
;
Presenting Lenore
;
Fantastic Book Review
;
Tattooed Books
;
etc.