I know it's a little late for an IMM post, but I just had to share my excitement! I don't get books in my mailbox very often, so it's a special occasion. :) Look what I got!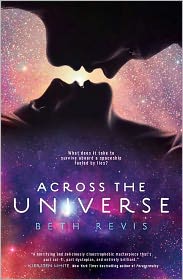 I won an ARC of
Across the Universe
by Beth Revis from
One Librarian's Book Reviews
. Thanks, Melissa! Even though the book is already out, I'm still happy for the ARC because I'm #6 on my library's holds list, which may take months, and I just can't wait that long. You
have
seen all the
rave reviews
of this book, right?
I also got quite a few beauties from the library this week. Lookie here.
Anna and the French Kiss by Stephanie Perkins (because everyone love love loved it)
You Killed Wesley Payne by Sean Beaudoin (because it's noir and got mixed reviews)
Slice of Cherry by Dia Reeves (because Bleeding Violet was delightfully dark & twisted)
Sapphique by Catherine Fisher (because I liked Incarceron and wonder what's next)
In My Mailbox
is hosted by Kristi of The Story Siren. Head on over to see what goodies everyone else received this week!
P.S. You see that Dystopian February button to the right? Clickie clickie to go to
Presenting Lenore's blog
, where she'll be reviewing dystopias all month long! I'll be reading a few myself. :)