My latest book order came in a week or two ago, and I've been slowly reading through all my new library books. I don't know how I managed it, but I kinda maybe sorta bought THREE picture books with pirates. Um, oops? I must have had Johnny Depp on my mind. Anyhow, here they are!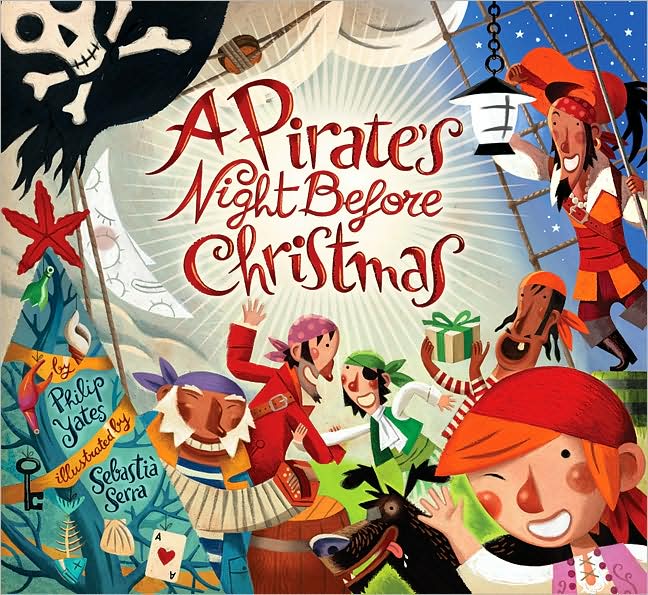 A Pirate's Night Before Christmas
written by Philip Yates, illustrated by Sebastia Serra (2008)
Quite the retelling, this one is! It begins, "'Twas the night before Christmas aboard the
Black Sark
/ Not a creature was stirrin', not even a shark!" I love the invented pirate rhymes, but I love more the pencil & ink digitally colored illustrations. They're soft, yet vibrant, and rather tropical because of course instead of reindeer, we have seahorses pulling the sleigh. A pirate glossary at the end of the book will help translate some of the jargon to curious listeners (and readers), though the illustrations tell the story perfectly well.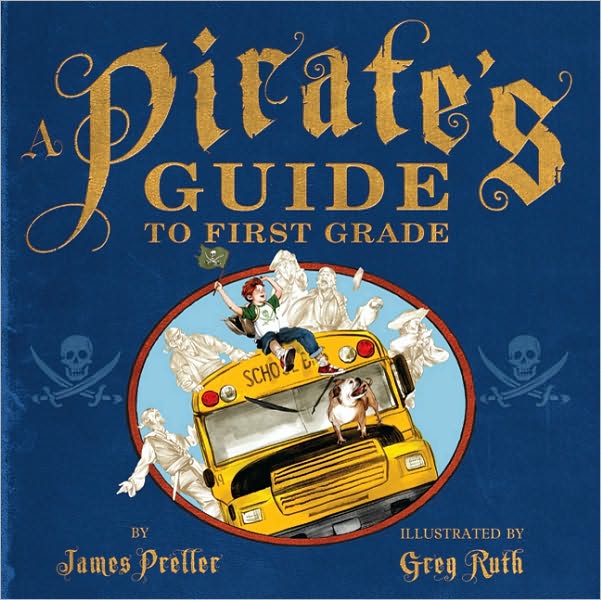 A Pirate's Guide to First Grade
written by James Preller, illustrated by Greg Ruth (2010)
Add this to your collection of "first day of school" books to read and share with teachers. I love it because of its potential to jump right in with a discussion of how illustrations tell a story separate from yet complementary to the text. Yes, it's a book about a boy's first day of school, but on this journey, he brings with him a crew of pirates, drawn in sepia-like tones while the rest of the story is done in watercolor oilstick and pastels. Are the pirates really there or not? Students will catch on to the fact that they are a figment of the boy's imagination. The text is done in pirate-speak but the endpapers provide a glossary, and of course, the illustrations show what may get lost in translation.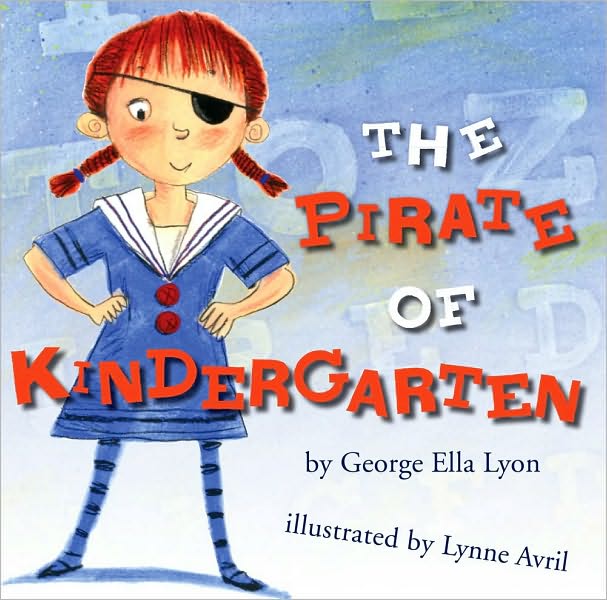 The Pirate of Kindergarten written by George Ella Lyon, illustrated by Lynne Avril (2010)
This one's not actually about pirates, but since it has pirate in the title, I thought I'd share anyway. Ginny always has her nose in a book, quite literally, and has trouble making out which bunny ears to cut. During her vision screening at school, she finds out that most people don't see two of everything like she does, so she goes to the eye doctor to fix her double vision - hence the eye patch. I like how the eye patch at the end turned her into a pirate, which was something positive and special for her. Great readaloud for kindergarten students before their own vision screening at school.
Other pirate favorites:
How I Became a Pirate
written by Melinda Long, illustrated by David Shannon (2003)
Pirates Don't Change Diapers
written by Melinda Long, illustrated by David Shannon (2007)
Henry & the Buccaneer Bunnies
written by Carolyn Crimi, illustrated by John Manders (2005)
Henry & the Crazed Chicken Pirates
written by Carolyn Crimi, illustrated by John Manders (2009)